Our hairdressing courses are the perfect gateway into a successful career as a hair stylist. Our hair and makeup school in Gurgaon, Delhi NCR offers a vast curriculum including hair stylist course, hair cutting course and courses to lean chemical and natural hair treatments.
We are often referred to as the best hair academy which is expert in providing right from hair styling courses for beginners to professional training. Our hair styling classes comprises of a salon learning simulation and live hair treatment jobs.
Our hair academy is well equipped with the latest equipment and products, so that when our students go ahead to develop and achieve their dreams, the industry know-how is at par with any industry leader.
We provide direction to the young students on how to structure their portfolio and make engaging content to showcase their level of learning and obtain the desired results out of our hair cutting and styling course.
Course(s) Highlights:
• You will get familiar with hair theory like Trichology, Color Theory, Angle Theory and hair styling such as Braids and 10+ Buns in our best hair styling courses.
• We will equip your mind with the perfect usage of chemicals highlights, global, touch up, rebounding and haircuts.
• In the advanced hairstyling course, you will learn the hair treatments on hair spa, Henna, deep oil cleansing, anti-hair fall, dandruff, fungal treatment, and flake treatments.
• Certificate of Completion from our hairstyling school and Social Media Promotion 101 Training with enrollment gifts.
• Affordable Fee and Flexible Class Duration
"For me the working of hair is architecture with a human element." - Vidal Sassoon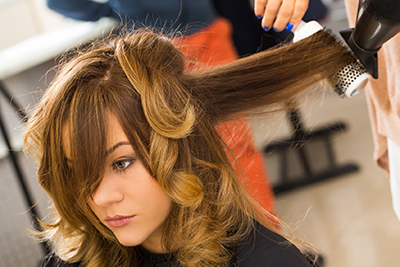 Unique Benefits
1.

FREE

1 Page Portfolio Website
2.

FREE

 Digital Marketing Training – How to Promote Yourself Online and on Social Media Platforms
3.

FREE

Makeup Kit / Hair Kit
    and more surprises with All Professional Courses
4. FREE 2 Hrs monthly updation classes for one year after the completion of the course
Prices are effective for FY 2019-20 Only.
Looking for best Hair and Makeup Academy in Gurgaon, Delhi for hair stylist courses and training center. Join Feminaz Beauty Zone Hair Salon & Academy. We offer hair cut course, bridal hair stylist course with affordable course fee structure.
Learn in live hair styling class session from the top expert of the industry.