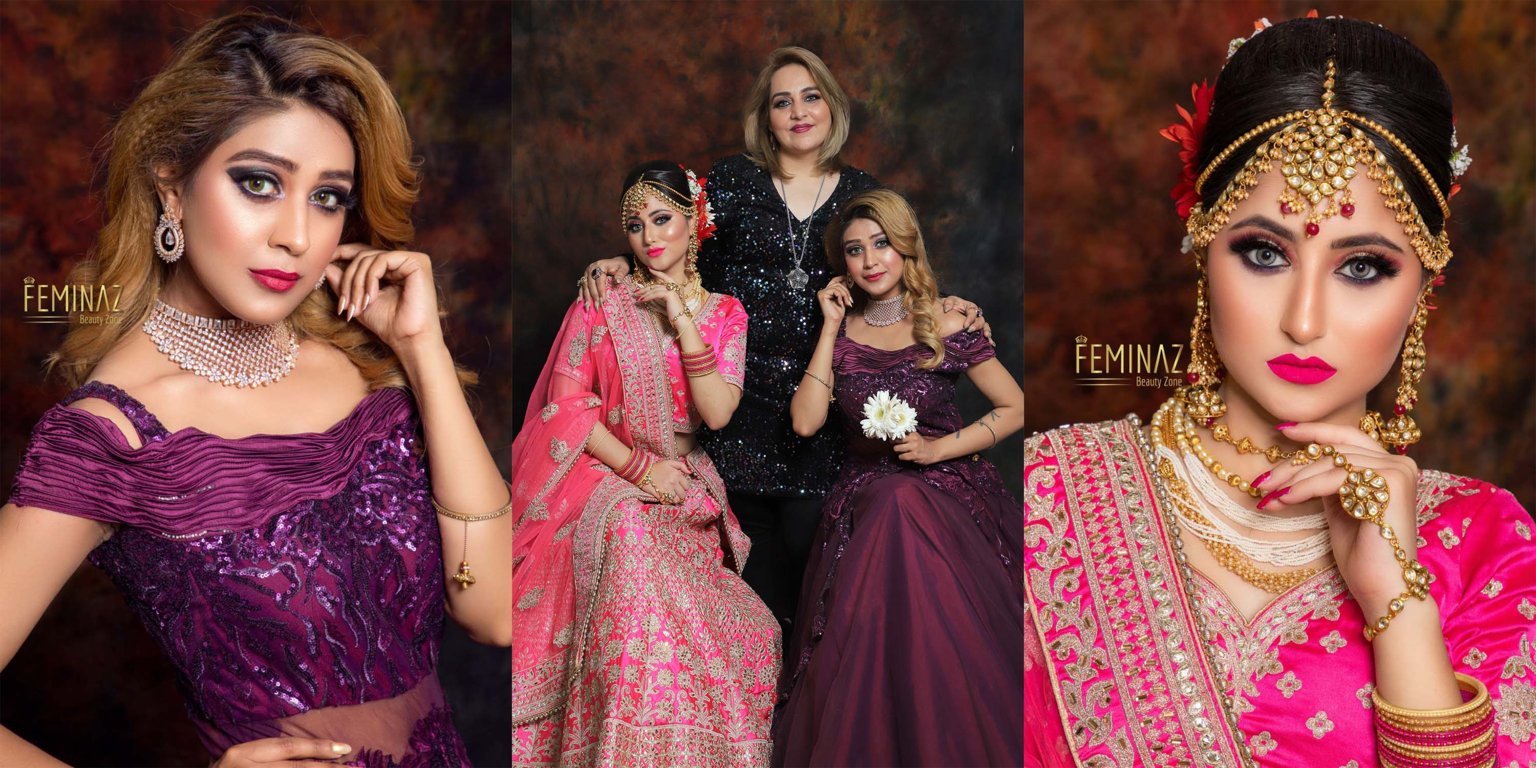 A team of professionals, Feminaz Beauty Zone's makeup artist in Gurgaon and Delhi NCR have often been voted as the best makeup artists and hairstylists.
The team works under the banner of the renowned senior celebrity makeup artist, Pooja Sharma. She started her career in 1994 in the skin care and cosmetic industry. After gaining extensive knowledge of makeup, hair, skincare and color; she gave her passion about beauty and culture a shape through the establishment of Feminaz Beauty Zone in 1998. Over the years, she has used the magic of her brushes for thousands of makeovers for brides, photo shoots, fashion weeks and TV shows. Now with all those feathers up her hat, she has become a leading name in educating and guiding budding artists in the field of makeup artistry and beauty care.
All makeup options are personalized to your needs; it is for you to pick from a range of Hair Stylists and Makeup Artist services, including Airbrush Makeup, Traditional makeup, HD Makeup application, bridal makeup, bridal hairstyles, party makeup, light makeup, Indian bridal makeup, Sagan, engagement makeup, reception makeup and all types of occasion makeups. The makeup artists plan the makeovers according to the look you desire and the outfit you would be wearing on the occasion so that you get just what you need.
The perfect makeover with flawlessly designed hair, complementing your fabulous shiny nails having designer paints completes your look. Take pleasure in being pampered, with the latest makeups trends and enjoy being the center of attraction at your event.
The best makeup artist in Gurgaon are to be found in the luxurious Beauty Salon and Makeup Studio in Sector 23A, Palam Vihar Road, Gurgaon (Haryana) and at their Makeup Studio in Delhi Dwarka and Connaught Place (India). They also serve as freelance makeup artist in Gurgaon and all locations in the India and abroad for destination Weddings and Events providing an array of on-location services.
Please contact to explore our luxury makeup services further and to check booking availability for your date and set a consultation session prior to your occasion.
"Beauty and makeup and color is like the finishing touch on everything."
– Marc Jacob
Wedding around the corner?
Call us for special plans and
pricing. 099905 12338
At Feminaz, Makeup Is Art, Passion, Expression and Creating Unique Styles
In all these 20 years I have observed that clients have many questions about bridal makeup, professional makeup and the way makeup artists will work. Here, I have tried to give answers to most of the frequently asked questions. I hope the information is useful for you. If you have any other query, feel free to contact me at pooja@FeminazBeautyZone(dot)com or you can WhatsApp or Call +91 99905 12338.
Q. Do you have a Makeup Studio/ Salon or do you provide on-location makeup services?
A. I have a full-service salon, and makeup studio with an experienced team of the best makeup artist in Gurgaon, Sector- 23A as well as a makeup studio in Dwarka, New Delhi. Yes, I also offer the comfort and convenience of getting your makeup at your preferred location.
Q. Is both hair and makeup done there?
A. Yes, Our makeup packages include both hair and makeup.
Q. Do you provide Airbrush Makeup / HD Makeup services?
A. Yes, I can provide all types of makeup, the selection of the foundation base is done considering the requirements of your skin.
Q. If I do not know what look I want, can I meet you for a free consultation?
A. My senior makeup artists or I would love to meet you for a complimentary consultation session prior to your booking date to discuss your makeup according to your outfit, accessories, traditions and weather conditions.
I also advise you to look up some styles that you like. We will go through them together, to decide whether they are suitable and comfortable with your attire.
Q. What makeup brands do you use?
A. Here are some of my favorite makeup brands that I have in my makeup kit; MAC, Chanel, Bobbi Brown, Makeup For Ever, Dior, Makeup Studio, Inglot, I WATA, Anastasia, Ferrarucci.
Q. Do I have to arrange my own hair styling products like accessories, extensions etc.?
A. No, our makeup artists are fully equipped with all the necessary appliances, products, lighting and accessories. The accessories used are chargeable. However, all the accessories such as a tiara, flowers, etc. are included in our bridal makeup packages. If you require fresh flowers, please arrange them yourself.
Q. How many people can you cater on the occasion day?
A. My makeup artist team and I can cater to any number. I have a large, professional makeup artist team with years of experience in hair and makeup.
Q. How much time does the makeup take?
A. Every Make-Up Artist has her own pace of working. The duration of makeup can vary from 1-3 hours depending on the occasion and type of makeup taken, so we strongly advise you to the keep an extra 30-minute window to get ready in time, so everything goes calmly creating a beautiful memory!
Q. How long the makeup lasts?
A. The professional makeup remains fresh for more than 8 hours. All the products used for this purpose are waterproof and of high quality which leaves long lasting finishing. You would require cleansing your face well with an effective makeup remover or cleanser to remove the makeup.
Q. Is it important to take a bridal makeup trial?
A. It is highly recommended to take a bridal makeup trial to ensure the best look on your wedding day. Still, it depends on you; it is not a mandatory part of your bridal makeup, and you can skip this part under certain conditions.
Q. What happens in the bridal makeup trial?
A. The bridal makeup trial is a makeup session in which particular makeup and hairstyle are tried upon your face according to the face cut, facial features, complexion and other factors. This kind of trial gives us an idea whether the selected makeup will suit your face on your wedding day or not. Also, some suggestions and required corrections are noted in the file to be referred on your wedding day for final bridal makeup.
Q. Will you take before and after photos at my pre-bridal trial?
A. Absolutely, yes. Before and after pictures of your pre-bridal trial will help you to see the difference in your looks and hairdo. It will also be filed for your wedding day to be used as a reference.
Q. What are the charges for Makeup?
Q. How do I book the dates for my makeup?
A. 40% of the package price has to be paid in advance to confirm the booking.
Booking amount is neither transferable nor refundable. However, the reservation can be moved to another date at no additional cost (Subjected to availability).
Q. When should I pay the final balance?
A. The balance payment has to be made before the commencement of the services for on-location as well as in-salon services on the day of the occasion.
Q. What form of payment do you accept?
A. We accept credit/debit cards, account transfers, e-wallet and cash payments. Please inform us, if you opt, bank transfer, so we will share company bank account details in advance to pair account.
Services taken over the provided package and applicable taxes will be charged additionally.
Q. What are the transportation charges?
A. We do not charge transportation within the city up to 10 KM of our salon in Gurgaon or makeup studio in Delhi. Beyond 10 KMs will be charged @ Rs.16/KM.
Q. Which areas do you serve?
A. We can travel to all destinations throughout the world with our hair and makeup team. For occasions outside the city or country, Travel & Stay charges shall be borne by the client and for overseas destinations, the visa formalities also have to be fulfilled by the customer.
Q. How soon should I book my makeup?
A. Book your dates a month prior to the occasion to ensure a suitable slot with the preferred artist. In the case of bridal makeup, we suggest that the booking should be made three months prior to the wedding.
Q. I have sensitive skin – Is there any extra care that is to be taken?
A. All the products used by us are ophthalmologist tested and approved by dermatologists. If you are sensitive/allergic to any cosmetic product (like toner, fragrance, etc.) Please let us know in advance so that special care can be taken.
Q. What preparations are needed for getting the makeup service on the location of my occasion?
A. Please get ready at least 30 minutes before your appointment with your dress, jewellery, shoes and required accessories. If you have a group booking, everyone should be present in time so, along with your opinions we can decide on what order we will follow.
Work Station: Keep table and chairs ready at a place with adequate lighting to conduct the makeup services. We require a power plug point near the workstation for hair styling.
Outfit: Wear a drape gown or anything which does not have to be pulled over your head. If your outfit (lehenga or saree drape) is very complicated please learn it from your dress designer and get someone to assist our staff.
Hair: Shampoo your hair a day before and do not use conditioner.
Face: Cleanse your face as per your daily routine. We do provide face cleansing before the makeup. Do not try/ use anything new on the face for at least seven days before the occasion. Facial treatment if required is recommended only under the strict guidance of beauty experts.
Assistance: Please have some dear one with you to assist and take care of your expensive jewellery and belongings.
Please make sure somebody is there to pick you as soon as you are ready for the occasion.
Permission for Photography at our Salon and Makeup Studio is solely the Management's Decision.
Last, but not the least we would love to hear back about your experience and about the compliments you gather.